Recently I visited Dubai after planning to go there for many years. It was short trip for three days but covered most of Dubai.
Quick guide on activities and places to visit.
Best Time to Visit
I went in late January and first thing I realize is that summer would be unbearable. There is nothing much to do outside during noon hours.
Winter is best season to visit, November to February.
Places to visit
Burj Khalifa
Palm island
Museum of future
Miracle Garden
Meena Bazaar
Things to do
Few things to keep in mind
Get car rental if possible that make commute easy. Parking is easy to find
Carry water everywhere, even in restaurants. There is no free water we were offered free juice but no water
Book tickets in advance if you have fix itinerary otherwise most of the places you can get tickets on spot
Most credit cards work everywhere but carry some cash just in case
If you want in depth plan and some tips keep on reading and you won't be disappointed
I went there with my friend, and we reached at about 8 pm. I took us about 20 minutes to get an arrival visa, we had valid US Visa stamped on Indian passport.
After collecting our luggage, we went to a car rental via Uber, which we had booked in advance. However, there were many car rentals at the airport, mostly US companies, with their cars in the airport parking lot. Finally, that night, we checked into our hotel in Downtown Dubai and slept since we had jet lag.
Day 1: Burj Khalifa and Desert safari
We woke up around 5 am due to jet lag and decided to visit Burj Khalifa. It was the best decision we made the whole trip since there was no crowd at 6:30 am, and we got our tickets in two minutes, with no rush at the elevators. Normally, it takes about two-plus hours to get to the top during sunset time.
We watched the amazing sunrise and stayed there for about two hours. After that, we went back to the hotel to have some breakfast.
Price: 169 AED
Tip: Sunrise tickets are only available on Saturday and Sundays.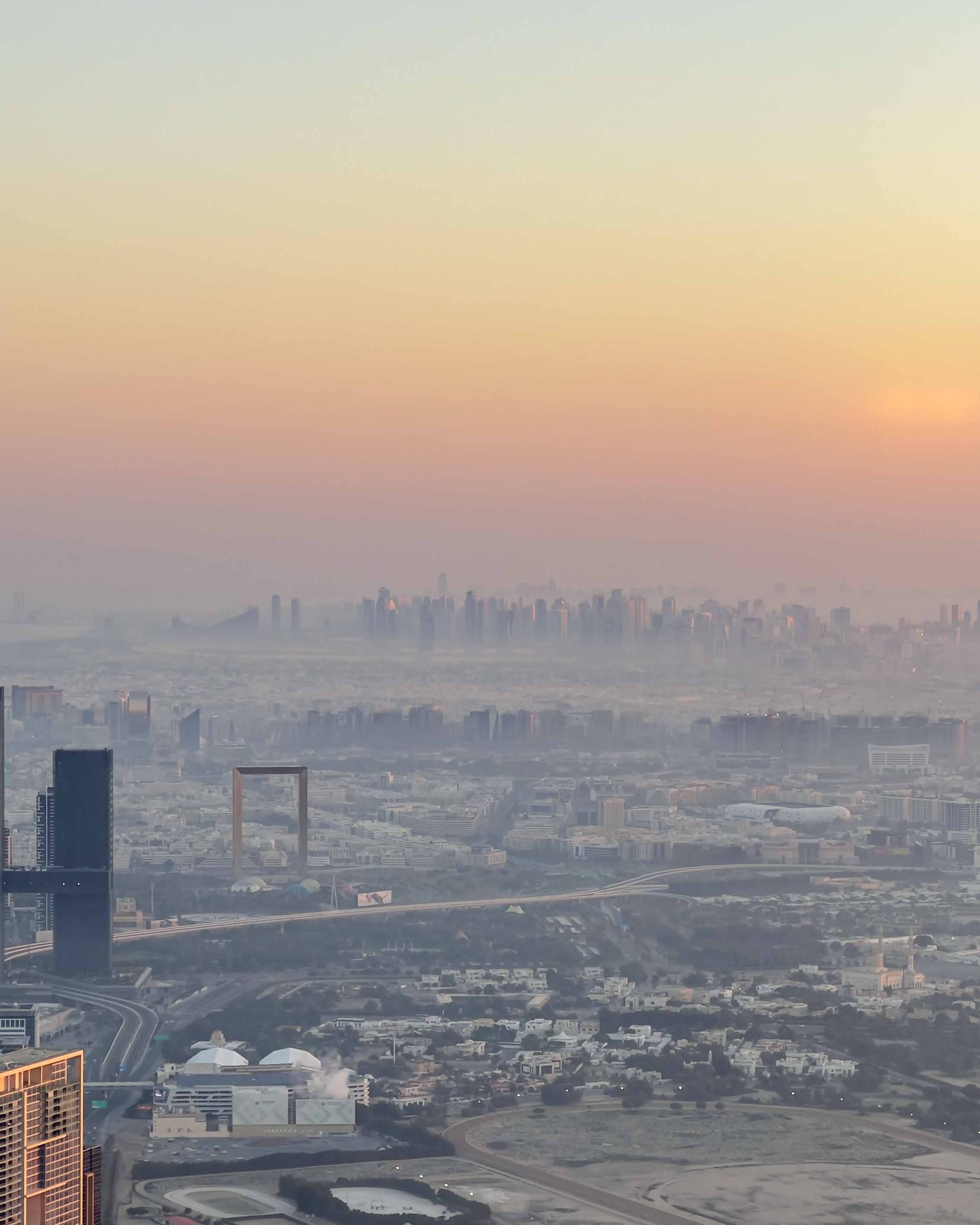 After breakfast we went to Meena Bazaar to do some shopping. There are lot of gold shops and it is famous for that
Same day we decided to go for desert safari and booked that from our hotel agent. I personally didn't enjoy much because lot of things mentioned were not accurate like native dress for photo, camel ride which was just photo prop not really ride and free shisha at table. We did added ATV ride at desert which was decent but had fun. After coming back we were tired and slept early
Price: 300 AED for Safari, 300 AED for ATV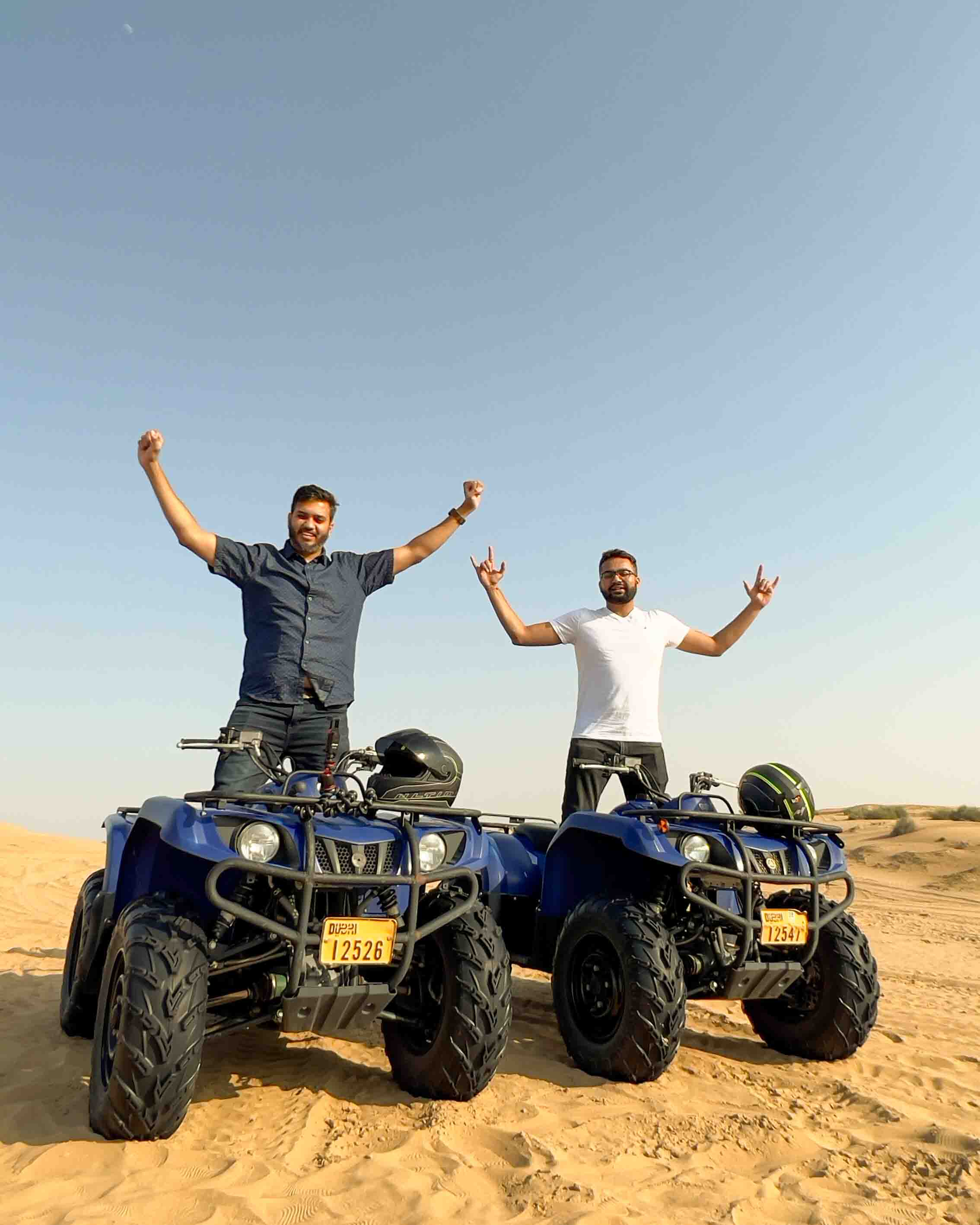 Day 2: Miracle Garden and Museum of Future
We started our day by going out for breakfast nearby our hotel at Amritsr restaurant and it was so good and reasonable price we ended up going there all day for rest of our trip.
After breakfast we went to Miracle Garden which is 30 mins drive from downtown Dubai. This is one of the places in Dubai which you never expected it be found in desert as the name says it truly is Miracle. They have made so many sculptures out flowers you can spend about 2-3 hours easily
Price: 75 AED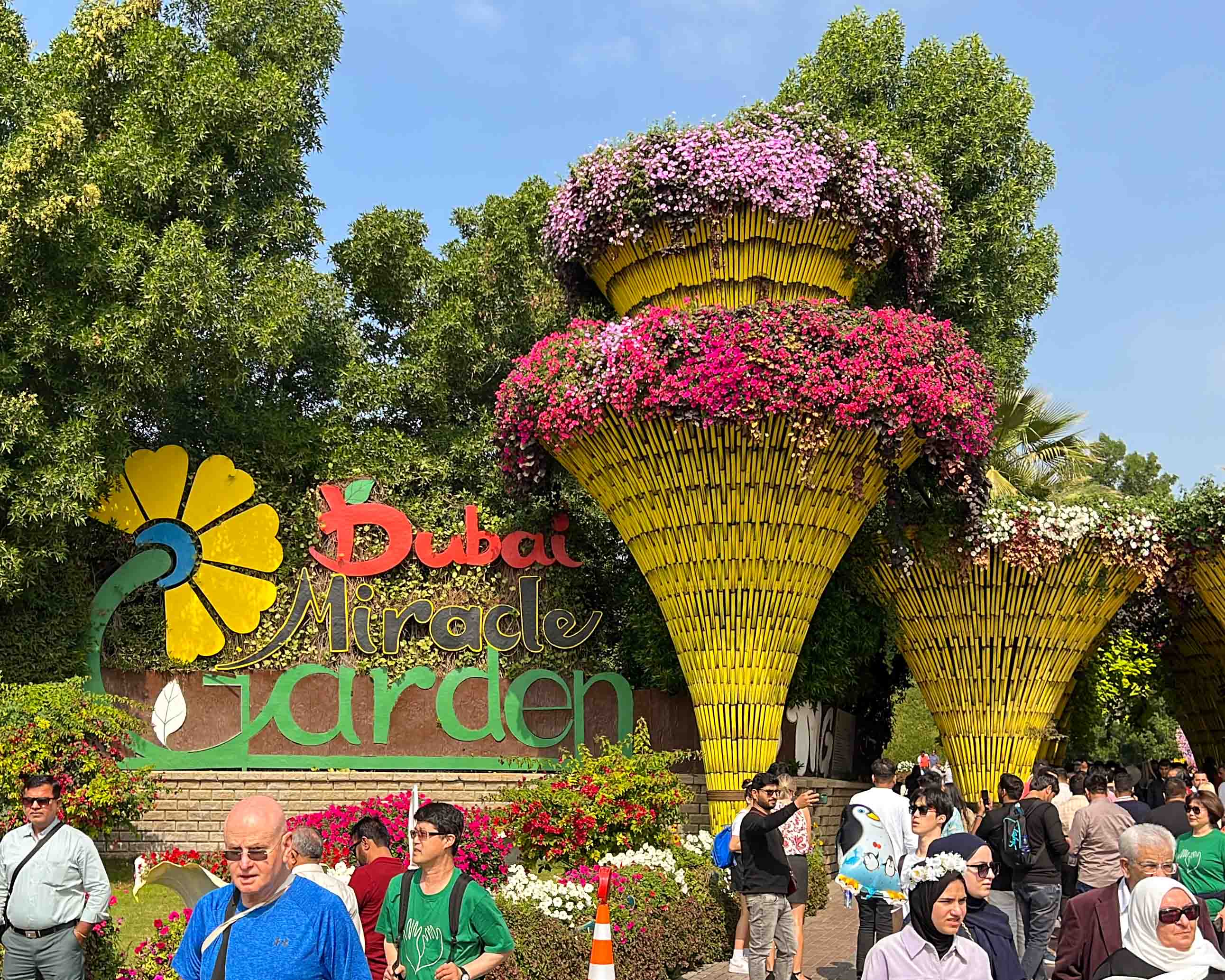 Our plan was to visit the Museum of the Future earlier, but the tickets were sold out for two weeks. So, at around 2 pm, we left for JBR, where we had lunch. Later, we received a message from our hotel agent regarding tickets for the museum, but they were charging double the price. After negotiating, we paid 50 AED more than the ticket price and went there. It took us about 45 minutes to drive from JBR to the museum, and we reached there just in time.
To be honest, as futuristic as the building looks from the outside, it is not that futuristic from the inside. The only thing that caught our eyes was a robotic dog. Otherwise, it's just a themed set in the future that shows how our earth will end and what we can do about it.
Price: 149.00 AED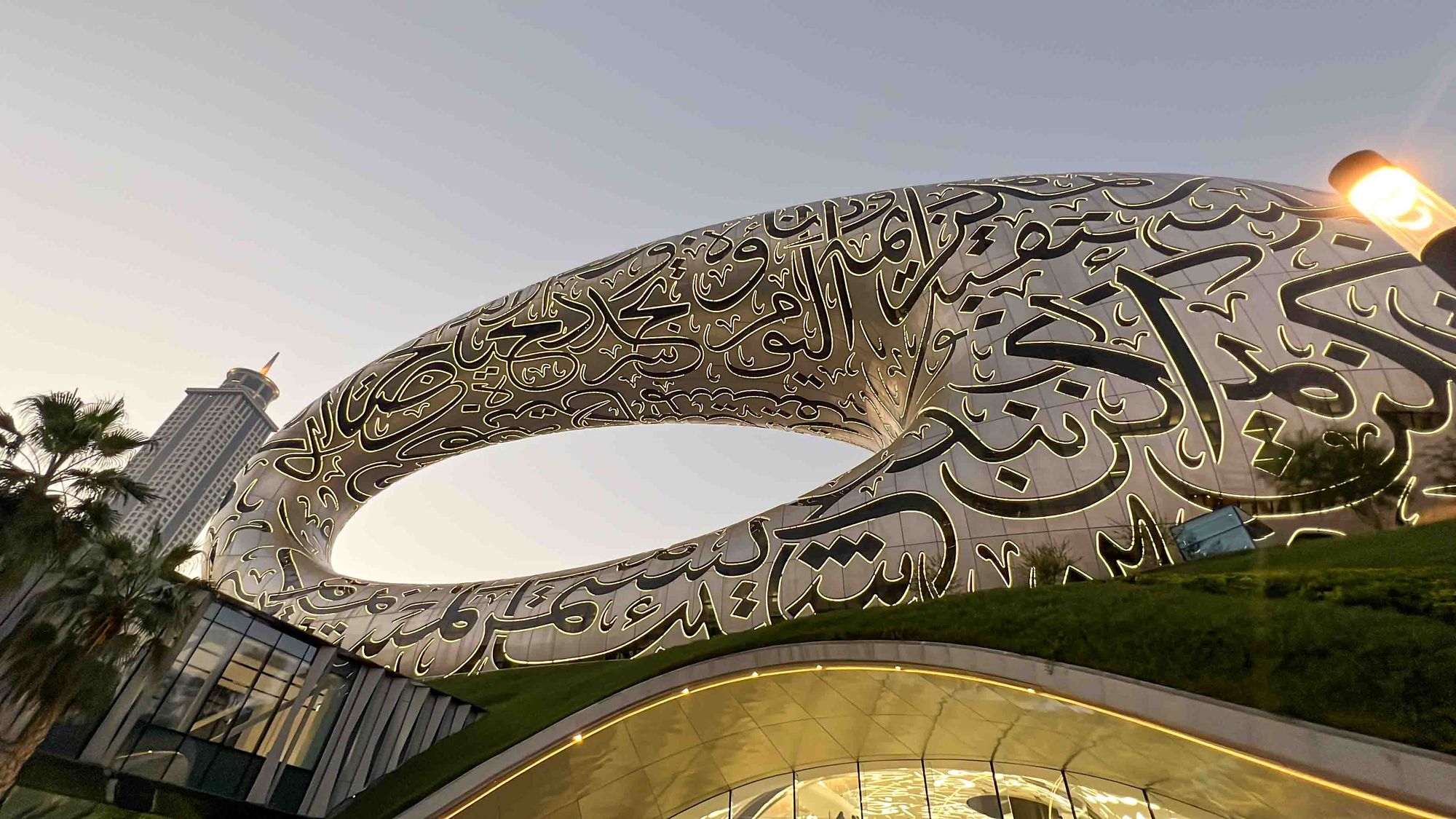 At night, we went to Dubai Mall to see the fountain show. We did the Gondola ride, which lasted about 30 minutes, and it offered us a close-up experience of the show.
There are many restaurants in the mall, but we went to Huqqa, which is a Shisha place that serves food and non-alcoholic drinks. I would recommend going there for the best views of the fountain. If you don't smoke, order coffee or tea, and you won't be disappointed.
Day 3: Skydive and Palm Island
This was the most fun day of our trip and the one that I was personally looking forward to the most. We booked a skydiving slot for 11 am and arrived at 10 am to check in. Typically, it takes about an hour after check-in before we board the plane. However, since we arrived one hour early from our check-in time, we had to wait for about three hours. During that time, we saw other people doing skydiving, which was fun but also made me nervous. I must say that the views were definitely worth it, and if you plan to do it just once, this is the place you should do it.
Price: 750 USD (Highest package)
Tip: Book in advance, slot gets filled fast and also book for early slot it gets warm in Dubai.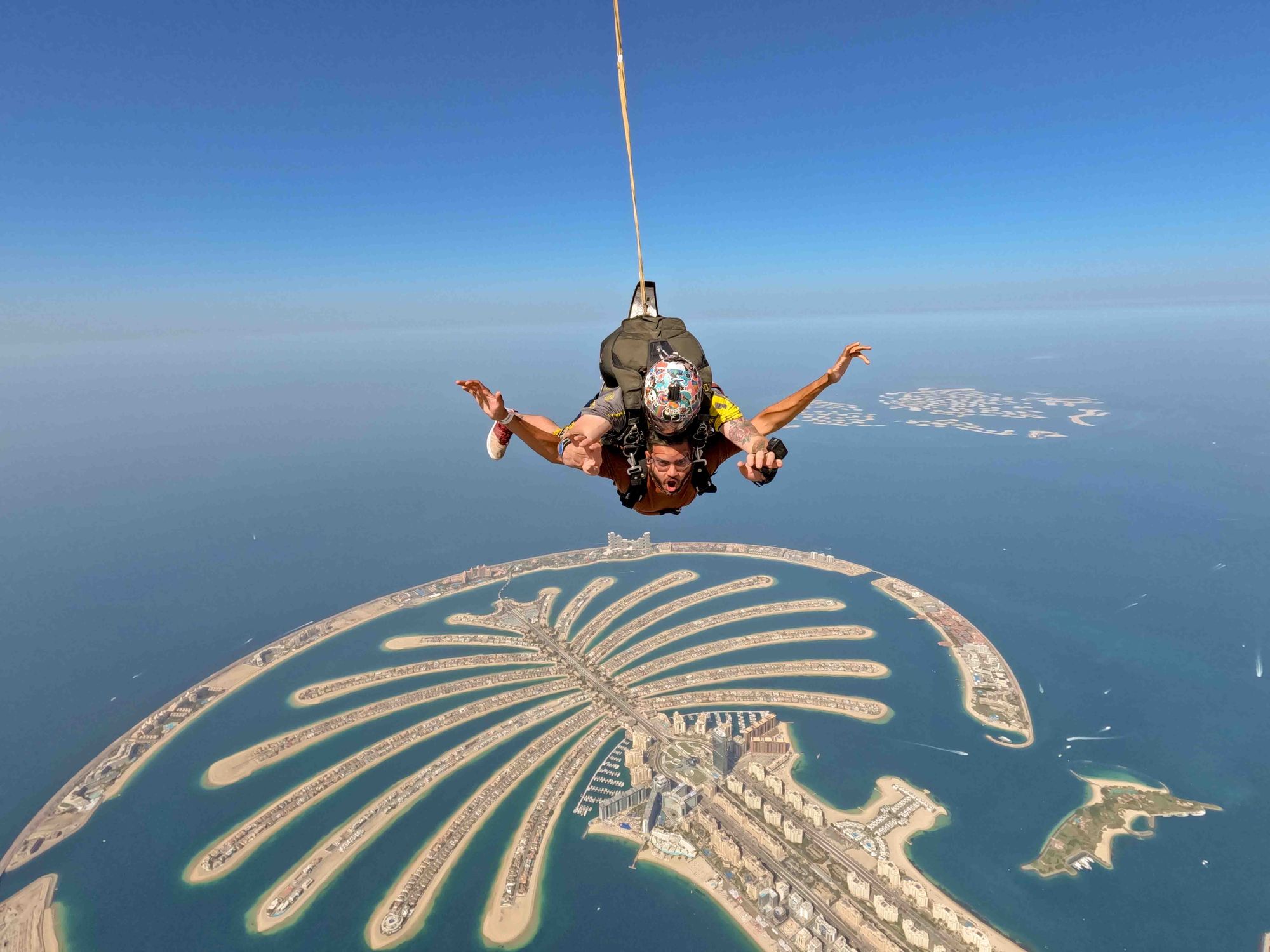 Luckily, we didn't feel dizzy after skydive so we went to grab some lunch at Atlantis. If you have time, I would highly recommend visiting the aquarium as it looks amazing, but unfortunately, we didn't have time for that. Instead, we went inside Atlantis, The Palm, and took a walk there. After that, we drove around Palm Island before heading to Burj Al Arab. Later we went to JBR again and then called it a day.
Pro tip: You can't visit Atlantis if you don't stay there. Make a table reservation at some cafe inside that way you can go in. Same applies to Burj Al Arab.
For more question or feedback please leave comment or reach out to me on instagram: @varun_y